Professional Grade Clear UV Fluorescent Paint
Next-generation, clear UV fluorescent paints. Polyurethane based to be extra-tough, long lasting and suitable for indoor and some 'limited' outdoor use.
or scroll down to read more about these paints
What are Clear UV paints?
Starglow Clear UV Paints are a new kind of Smart Paint which will dry-clear (opaque) but glow brightly when exposed to UV Black light.
Made in the UK using the very latest in UV Revealing Technology, they are solvent-free and non-toxic. Best used over a white (or light) background, these highly durable paints are safe to use indoors and outdoors (Providing they are not over-exposed to direct sunlight) and are available in 8 vivid ultra-violet, fluorescent colours.
Starglow Clear UV paints contain a much higher ratio of Smart UV Pigments than aerosol paints, providing a much richer, deeper, UV-powered glow.
Note: These paints do not glow-in-the-dark. however they do fluoresce brightly when exposed to UV Blacklight.
Not all UV paints are the same!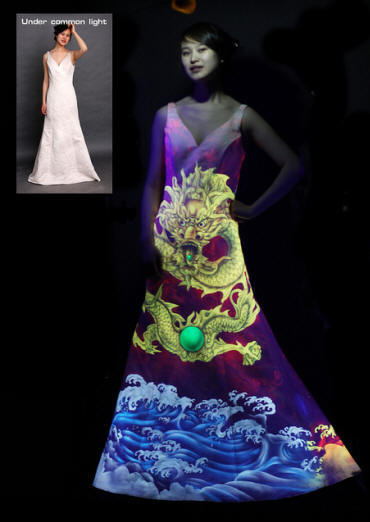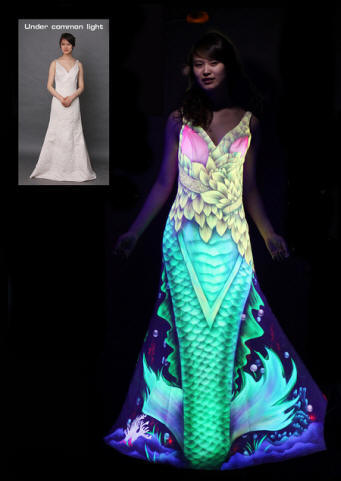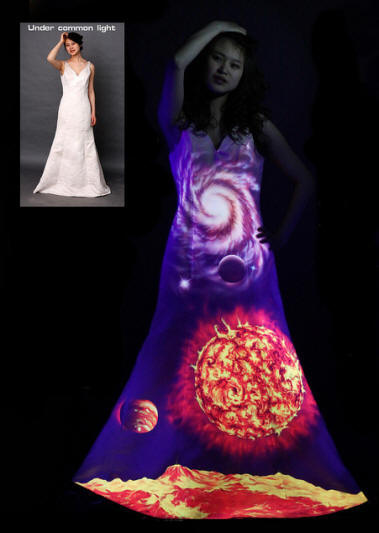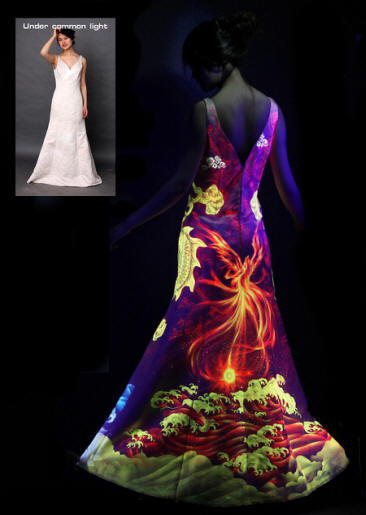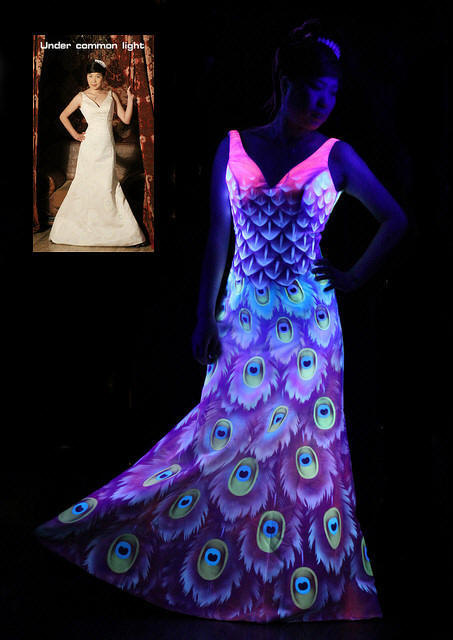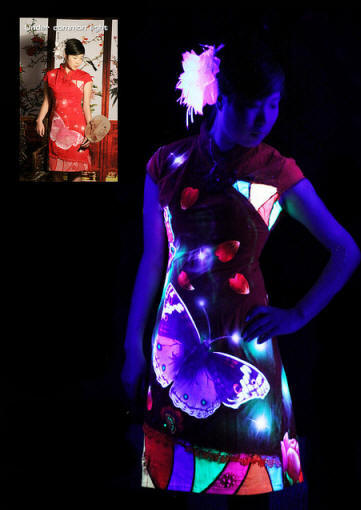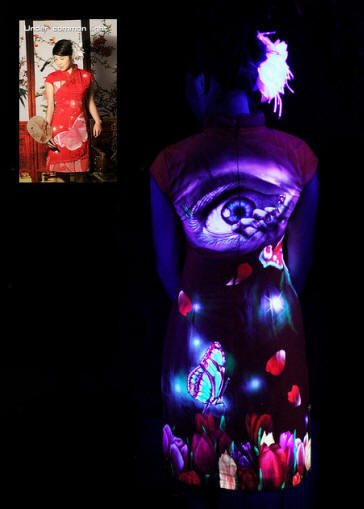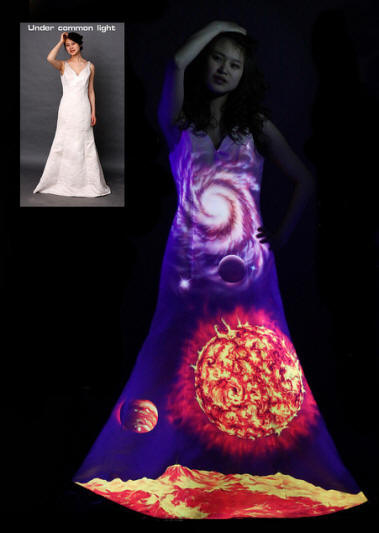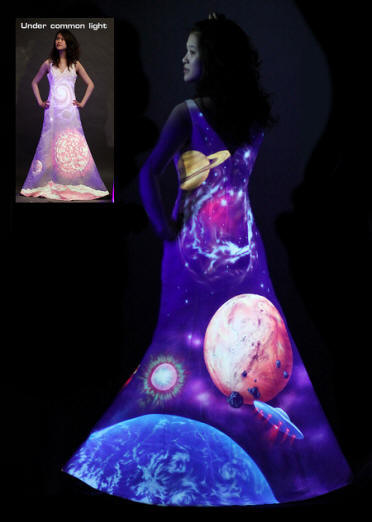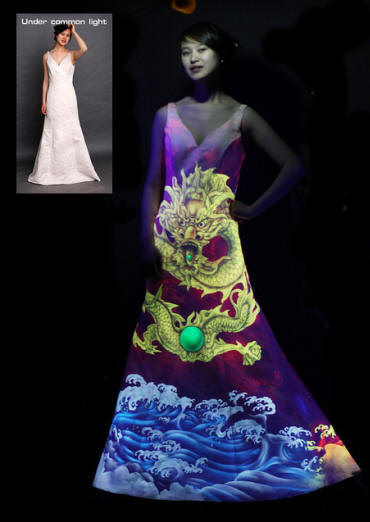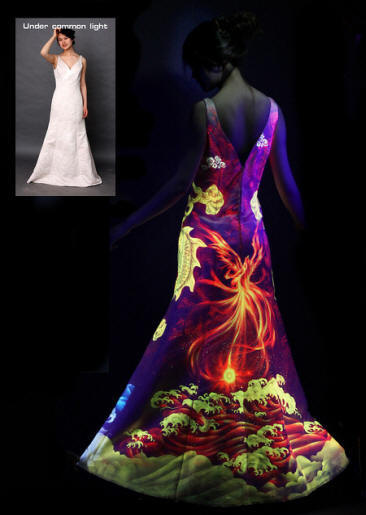 Amazing examples of Clear UV paint used here to great effect.  What will you do with it?
Clear UV paint should be applied over a suitable white (or white-primed) surface, so they should be ok to use on most surfaces.
Starglow Clear UV Paints are designed to be durable, highly versatile and very long-lasting, as underpinned by our unique 10 year guarantee.
Our paints are used and trusted by many Organisations throughout the World, as well as in countless homes, businesses, schools and universities. Starglow paints are manufactured in the UK to comply with EU Safety Regulations and are safe, solvent-free, non-toxic and virtually odourless.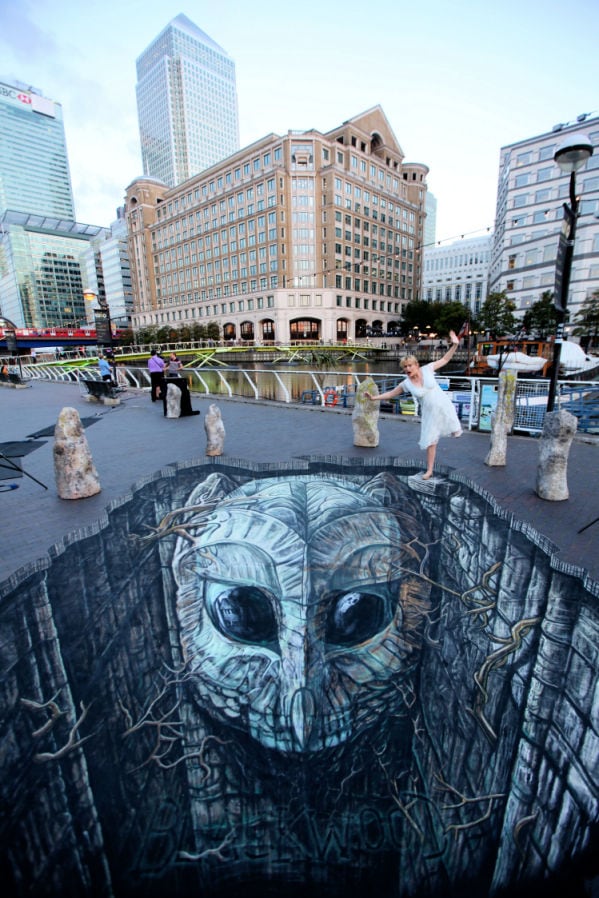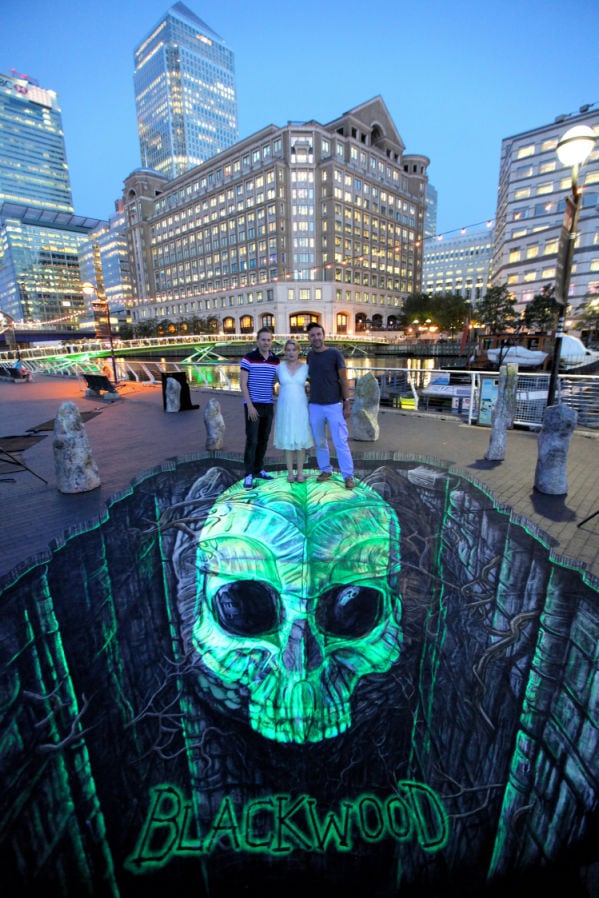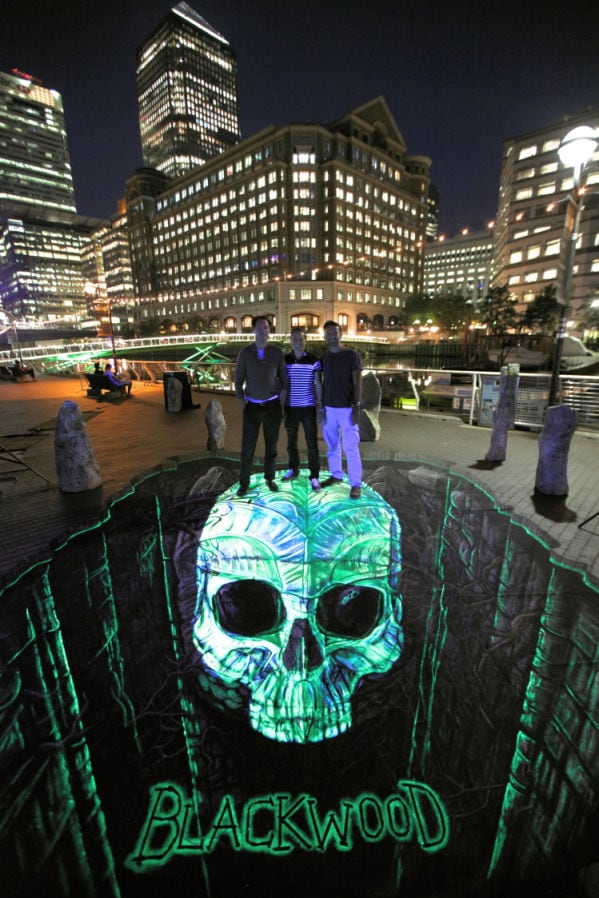 When the feature film Blackwood held its launch at Canary Wharf, London. Joe Hill (a talented 3D artist) was commissioned to create this stunning pavement mural. A great example of our Starglow Clear UV Paints in action :-0) Shown: Adam Wimpenny, Sophia Myles and Joe Hll
So why are our paints so good?
Because we make 'em that way.  We do not cut corners on quality nor do we use cheap ingredients, quite the opposite. When you compare Starglow paints with those made by other companies, you'll see the difference. Starglow paints are premium-grade so they glow brighter, last longer and look better, but yes, they do cost a little more.
By only using the very best of ingredients available and opting for the optimum pigmentation, do we achieve the results we are happy with, and if we're not happy why should you be?
We make Starglow paints to be waterproof, wash proof, tough and flexible; able to cope with most demanding interior and exterior applications.
So yes, we could produce cheap, poor quality paints, but why would we put our name to that?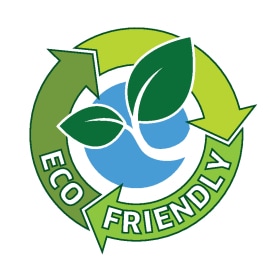 Starglow paints are based on a non-toxic water based PU Acrylic formula, free from solvents and harmful chemicals. They have low VOCs, are non-flammable nor harmful to the environment. Virtually odourless, these paints are quick-drying and brushes wash out in water. What's not to like?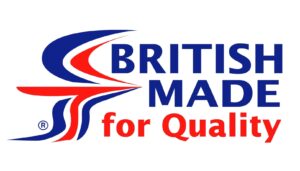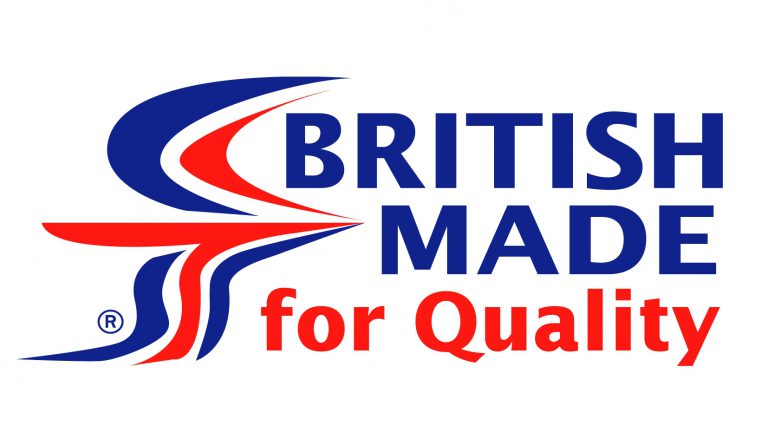 Starglow paints are proudly manufactured right here the UK for quality, performance and reliability. 
Adam Hargreaves' Wall Mural created using Starglow Clear UV Paint.
Clear UV Paint at a glance
Starglow Clear UV Paint is a water-borne polyurethane suspension containing a 'smart' UV pigment which reacts to longwave UV light at 365-375nm by fluorescing brightly in one of several colours. When applied over white or light colour surfaces, the paint should be clear to opaque depending on the UV colour together with the number and thickness of coats applied. Do not apply over Black or dark coloured surfaces as this will severely reduce the fluorescence of the paint and make it more visible under normal light.
The fluorescent (glow) effect of this coating is entirely dependent on the UV light source used. The stronger the UV the brighter the resulting fluorescence. The higher the quality of UV (i.e. its frequency and purity) the richer the resulting fluorescent colour. However, if the paint is illuminated using an inferior UV LED light source emitting a low-quality UV output, then the paint's colour may be adversly affected, resulting in a more bleached or washed-out appearance.
Starglow Clear UV Paints may be inter-mixed to produce other colours and tones. For optimum fluorescent performance over opacity you should apply 2–3 coats. 
Starglow Clear UV Paints may be thinned if required with a little clean water (up to 5% max). 
If the coating is likely to suffer from regular contact, abrasion, wear and tear or be used outdoors and exposed to the elements, then apply 2-3 coats of Starglow protective top-coat. 
The life expectancy of this paint will be dramatically reduced if using outdoors where there is prolonged exposure to direct sunlight. Therefore to maximum its lifespan under prolonged outdoor use, apply only to North facing surfaces.
See 'Delivery' for our dispatch days, shipping costs and options. Prices exclude VAT.