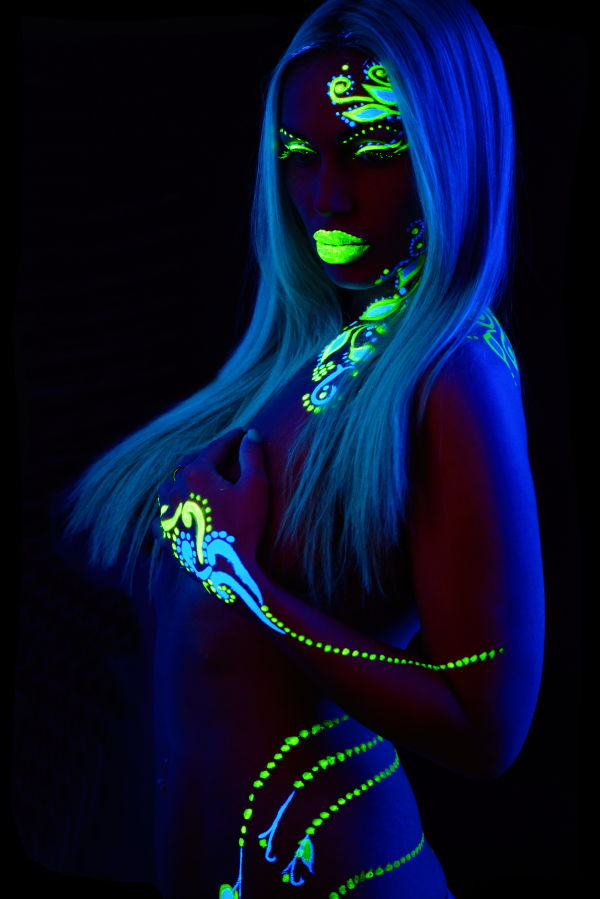 Professional grade, high performance, invisible UV Face and Body Paint that fluoresces brightly under UV light yet remains invisible in ordinary light.
or scroll down to read more

STARGLOW CLEAR UV Face & Body Paints are non-greasy, skin-safe, hypoallergenic body paints, suitable for use on all skin types and colours.
When applied as a thin layer, the paints are invisible in normal light yet will fluoresce brightly under UV Blacklight. When fun is done, the paint washes off with soap and water.
STARGLOW CLEAR UV Face & Body Paint may be applied with a firm artist brush, cosmetic sponge-tip applicator or just your finger. Apply as little or as much as is required to achieve the effect you desire. It would however, be sensible to have a suitable UV light available to 'see' the effect as you apply it.
Note: These paints do not glow-in-the-dark. however they do fluoresce brightly when exposed to UV Blacklight.
See 'Delivery' for our dispatch days, shipping costs and options. Prices exclude VAT.